Finding Calm In Your Busy World
I am a MTI qualified practitioner, and therefore belong to an elite group of practitioners recognised for their unparalleled skills and professionalism. My qualification is considered to be the gold standard for holistic massage training, and is recognised by the Complementary & Natural Healthcare Council (CNHC). All treatments are individually tailor made to suit you.
About
I am passionate about massage because I believe that touch is fundamental to our existence.
Massage, if perceived as caring, gentle and kind, can encourage the feeling of being safe, secure and accepted. It can also help us in our daily lives with the reduction of stress, increased movement and facilitation of healing in the body.
I believe a holistic approach to our everyday lifestyle challenges is essential. I love what I do because it ticks all my personal boxes, the main one being an absolute desire to help all my clients in any way I can.

I am affiliated, or have a membership to the following:


The Massage Training Institute is my Governing Body and can help, advise, support and offers further training opportunities.
They are one of the only Institutions who has stayed pure to the massage industry. They promote their qualified massage therapists as working with sensitivity, creativity and integrity.

Bristol College of Massage and Bodywork. Based in Bristol, the College gives me monthly supervision sessions, mentor support, and continuing professional development which means that I can choose to attend a huge variety of courses increasing my knowledge and methods.


Balens Specialist Insurance is here to protect both you and me.
Holistic Massage
Holistic massage differs from other types of massage as it takes a whole-istic approach to your physical, mental, emotional and spiritual well-being.
Your massage will include a range of different touch techniques, which can vary from deeper tissue release to others which are deeply relaxing. This will produce a sense of connectedness. You will feel that the massage is working 'with you', rather than having it done 'to you'.
Holistic massage notices the sensitivities, stresses and strains that your body undergoes on a daily basis through a two-way verbal and touch conversation.
Massage may be found to bring relief from everyday aches, reduce stress, increase relaxation, address feelings of anxiety and tension, and aid general wellness. It can also be used in support of other therapies to assist in the rehabilitation of muscular injuries.
Aftercare may be offered in order to keep you focused on the treatment you have received and exercises can help to continue the healing in your body.
Gift Vouchers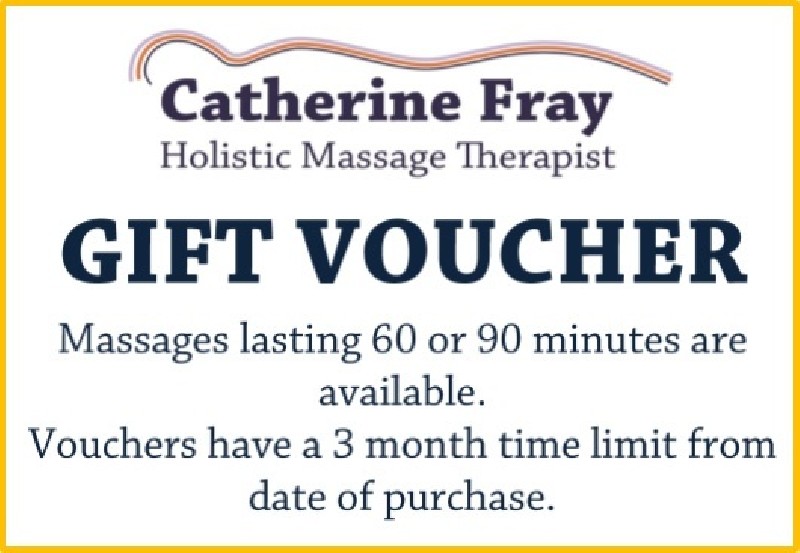 For high-days and holidays, for celebrations and anniversaries, give someone you hold dear a gift they will never forget!
A Treatment - What To Expect - Coronavirus (COVID-19) Update
Are you a little worried about having a massage?
Don't be, this is what happens.
Before you come to see me, I will have sent an email or message to you asking you about which, if any, cleaning products you are sensitive to. I will also ask you to confirm any current problems you have, and what areas you wish me to work on
An initial consultation - this will now only take a couple of minutes and no longer
I will be following Public Health England's advice and therefore be washing my hands before each and every client. I will be dressed in some degree of Personal Protection Equipment - the level of which is to be decided when Massage Therapists are told they can return to work
I will ask you to wash your hands as you enter and to sanitise them
When undressing, I will be in the same room behind a drape, and please put your clothes in a box with a lid provided
The couch will have a towelling cover on it and so will the face rest. On top of this there will be disposable paper couch roll. The towelling covers will be changed with every individual client, and the paper will be recycled after 72 hours of being in a sealed container
Drapes are sheets used to cover the areas that I am not currently massaging and will be changed and washed with every client
Payment will be made preferably by bank transfer and at the very least debit or credit card. No cash, please!
The massage oil used is currently fractionated coconut oil. It is
hypoallergenic, for sensitive skin and is not scented. This will be decanted from the main bottle and put in a glass container specifically for your treatment
I will disinfect surfaces and door handles after the end of the session and at least 30 minutes before the next client for the bleach component to take effect
My PPE will be renewed for each and every client
If I am feeling unwell or if I am worried that I may be infected, I will cancel appointments and endeavour to rebook them when I am sure I am feeling well and non-infectious, after the appropriate quarantine time
If you feel unwell (persistent cough, fever, headache, sneezing, etc) or are worried that you may have either come into contact or contracted the virus, please do not hesitate to contact me. Please do not attend your appointment. I will under these circumstances waiver my late cancellation fee no matter how late you call!
Please note: These measures have been put into place for your safety and mine, and are changing each week. I hope to be able to post another update very soon.
Testimonials
"An absolutely amazing experience – I felt totally relaxed and at ease and I was left feeling so much better than I had in a long time."
Ruth

"Catherine's hands are magic and wishing purely to relax, her very specific awareness of muscular needs is outstanding."
Jamie

"A very relaxing massage in a professional yet welcoming environment. Very thorough and therapeutic."
Neil

"It's like being massaged with a chill out pill. I instantly begin to relax and leave the session feeling stress-free in body and mind."
Cathy

"Catherine is highly recommended, her professionalism coupled with expert knowledge and practical techniques makes her the goto holistic massage therapist in Bristol!"
Phil

"I love Catherine's massages I feel relaxed and rejuvenated after spending an hour with her. The room is very relaxing as is Catherine's calmness she is also very professional and knows her stuff."
Debbie